Cross-Country – January 29th, 2023
This was a loop-trip that included Lafoe Creek, Wakomata Wilderness, Seymour Lake and the Kindiogami road region.
Lafoe Creek
We trailered along the Mississagi River to Lafoe Creek on highway 129, then unloaded the sleds. Our starting point was where the former McFadden Camp #4 once existed. The Department of Lands and Forest also had an office there at one time. A visit during summer will reveal the remains of building foundations across the road from the gravel pit parking lot. The Lafoe Creek region is rich in early 1900's lumber history and had been used for centuries by Indigenous people for hunting, fishing and fur trading.
Getting to the PowerLine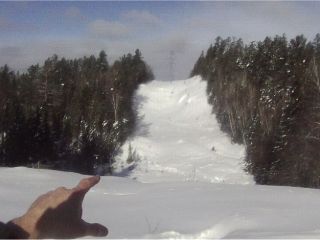 Regional camp owners and trappers are currently active in the area and have packed a trail running into the inland lakes. Our goal was to utilize, but not disturb their trail, in order to intersect the PowerLine that runs north from Wharncliffe to Aubrey Falls. Once we hit the PowerLine, it was all virgin powder heading north. There was plenty of snow and in some places between knee and waistline deep.
Breaking Trail
It was an exciting, one-after-another, roller-coaster venture up and down hills. We did get stuck in one spot south of Duck Lake and had our workout for the day. Some of the creeks and swamps were partially frozen, therefore, we came up with creative alternative routes. Once north of Duck Lake, we came out onto the Seymour Lake road and could have continued further north on the Power-line but would have had to deal with the boulder-infested Sharpsand River crossing. The Sharpsand, in the past, has been nasty on the undercarriage. We ended up heading east and skirting our way around by crossing at Little Rapid River instead. From there, it was further north to the Kindiogami road, then west out to highway 129 at Black Creek Outfitters. We took an alternative route coming back south, making an interesting loop out of this adventure. Video Link
Author: Dan Kachur https://sled-x.ca